Le guide ultime des frais de vente sur eBay
Last Updated:
De la même manière qu'un magasin de brique et mortier paie un loyer ou achète une propriété pour vendre, les propriétaires d'entreprises numériques paient pour l'espace qu'ils occupent en ligne.
Cependant, s'ils ne sont pas prudents, ces divers frais peuvent rapidement s'accumuler et grignoter les marges bénéficiaires. C'est pourquoi chez taxomate nous avons créé une solution pour que vous puissiez facilement importer vos frais de vendeur ebay dans votre logiciel de comptabilité.
Cet article couvre tout ce que vous devez savoir sur les frais des boutiques eBay, notamment les frais d'inscription, les frais de valeur finale, les frais d'abonnement, les frais de litige, les frais étrangers et l'absence totale de frais.
Est-il possible de les minimiser ? C'est tout à fait possible, avec une bonne préparation et un peu de prévoyance. C'est également ce que nous allons examiner ici.
Que sont les frais de vendeur eBay ?
Les dépenses et les frais eBay doivent constituer un élément clé de votre plan de vente et de votre budget.
Comment maintenir vos coûts aussi bas que possible tout en réalisant des bénéfices ?
La première étape consiste à vous informer sur ce que sont les frais de vendeur eBay. Vous pouvez économiser beaucoup d'argent à votre entreprise sur le long terme en apprenant simplement ce qu'ils sont, quand ils sont facturés, et comment ils affectent votre entreprise.
Mais puisque vous lisez ceci, vous êtes probablement déjà au courant.
La solution de paiements gérés d'eBay est en cours de déploiement auprès des vendeurs, et elle finira par devenir la norme.
Modes de paiement acceptés
Les clients peuvent choisir l'un de ces modes de paiement :
Visa
Mastercard
Discover
American Express
PayPal
Crédit PayPal
Apple Pay (via l'application eBay et le site Web mobile uniquement)
Google Pay (via l'application eBay, le site Web mobile et le bureau)
Si vous utilisiez une autre source de paiement, telle que PayPal, le coût était auparavant séparé et imposé en plus des frais de vente. Ils ont maintenant été intégrés pour faciliter la réconciliation.
Être payé
Quelle que soit l'option de paiement choisie par votre client, vous recevrez vos paiements sur le compte chèque spécifié avec les paiements contrôlés.
Lorsque votre client paie et qu'il est temps d'expédier votre achat, eBay vous envoie une notification. Après avoir vérifié le paiement de l'acheteur, eBay met à disposition le produit de votre transaction dans les deux jours ouvrables. Vous avez la possibilité de recevoir une distribution quotidienne ou hebdomadaire des fonds disponibles. Pour en savoir plus.
Les paiements seront retardés si une retenue est effectuée. Toutes vos activités de paiement peuvent être consultées dans l'onglet Paiements du Hub du vendeur ou dans Paiements dans Mon eBay.
Les vendeurs peuvent obtenir une variété de rapports pour faciliter le rapprochement de leurs ventes eBay.
Vos frais de vente ainsi que d'autres frais seront retirés immédiatement de votre caisse en attendant d'être remboursés lorsqu'eBay administrera vos paiements. S'ils sont insuffisants, nous facturerons le montant que vous devez à eBay à votre méthode de paiement enregistrée dans les 14 jours. Nous pouvons regrouper toutes vos dettes en une seule facture.
Ainsi, bien qu'eBay ait simplifié un peu les choses pour vous, les types de frais suivants apparaîtront encore de temps en temps.
Examinons chacun d'entre eux et voyons comment eBay calcule les frais qui vous seront facturés.
Frais d'inscription sur eBay
Les frais d'inscription sur eBay sont appelés "frais d'insertion".
Il s'agit des frais habituels pour la vente de tout objet sur eBay, et ils sont payés à l'avance, avant que l'objet ne puisse être mis en vente.
En tant que vendeur, vous rencontrerez des frais d'insertion pour la première fois. Il est donc essentiel que vous compreniez ce qu'ils sont et comment ils fonctionnent.
Comment sont calculés les frais d'insertion eBay ?
Les frais que vous payez pour vendre sur eBay sont déterminés par l'objet que vous mettez en vente, la façon dont vous le mettez en vente et votre type de compte.
Un seul frais d'insertion est facturé pour les annonces comportant plusieurs articles, comme un "lot de guitares" ou "5 cartes de collection".
Que l'objet soit vendu ou non, les frais d'insertion ne sont jamais remboursables.
eBay calcule les frais d'insertion en fonction des éléments suivants :
Votre niveau d'abonnement
La ou les catégories dans lesquelles l'article est listé
la durée de votre annonce
les mises à niveau optionnelles ajoutées à votre annonce.
Plus tard, nous verrons comment les différents niveaux d'abonnement affectent vos frais d'insertion. Nous allons maintenant examiner de plus près chacun des autres sujets mentionnés précédemment.
Frais de catégorie
Les frais d'insertion sont facturés à des taux variables pour les différentes catégories. Les marchandises qui entrent dans plus d'une catégorie doivent payer des frais d'insertion supplémentaires pour chacune d'elles.
Consultez les exemples suivants de frais d'insertion pour diverses catégories de produits.
Durée des annonces et améliorations facultatives
eBay permet aux vendeurs d'ajouter des améliorations payantes à leurs annonces afin de les faire remarquer.
Le prix de ces améliorations varie en fonction du type d'annonce et est appliqué aux frais d'inscription initiaux.
Il existe deux types d'annonces sur eBay :
Les annonces à prix fixe, souvent appelées annonces "valables jusqu'à annulation", sont renouvelées tous les mois.
Dans les annonces de type vente aux enchères, il existe une date limite précise à laquelle l'annonce prendra fin si elle n'est pas vendue. Cet article examine comment la durée et le prix de départ de l'enchère peuvent avoir un impact sur les frais de mise à niveau optionnelle.
Maintenant que nous avons vu comment fonctionnent les frais eBay lorsque vous mettez des produits en vente, examinons les frais qui sont facturés après une transaction.
Frais de valeur finale sur eBay
Les frais après-vente sur eBay sont connus sous le nom de frais de valeur finale. La taxe de vente n'est pas incluse.
Même si le client ne finalise pas la transaction, les frais de valeur finale sont facturés dès que le client clique sur "Acheter maintenant" ou remporte votre enchère.
Dans ce dernier cas, vous pouvez obtenir le remboursement des frais de valeur finale.
How eBay final value fees are calculated?
Final value costs are calculated using the price at which your item sells, the marketplace area in which you are situated, and the shipping method used to complete the transaction.
Final value fees are affected by the category in which you list your item as well as your store subscription level, just as insertion costs.
eBay Seller Shipping Fees and Shipping Method
The amount of final value costs you're charged depends on whatever delivery option your buyer picks at the transaction screen.
There is, though, one exception to this rule.
If you choose 1-day or international shipping together with a less expensive option like domestic, the charge will be computed based on the least expensive choice.
Marketplace region and account type
The final value fee percentage on eBay is different for each country marketplace.
Your account type – which should never be mistaken for the kind of shop membership – may also have an effect. In certain areas, the percentage of business sellers is smaller than that of private vendors.
The category or categories in which you list your goods has an impact on the overall cost of your final value fees, much like insertion fees.
Various categories have greater or lower maximum final value fees than ordinary categories, and also varied final value charge percentages.
In contrast to insertion charges, items that fall under two categories only get charged one final value fee.
eBay Store Seller Fees
If you sell on eBay frequently, you might want to consider getting a shop membership.
We'll lay down the expenses of each shop membership level (including no subscription) and how these diverse business types may affect your other fees in this section.
What is an eBay store subscription?
eBay allows you to open your own store with a monthly subscription charge.
More zero-insertion costs every month (details in the following section), extra tools to help you manage as well as advertise your business, and, in certain situations, cheaper rates are all available to you.
The price of a shop membership is determined by how often you pay - monthly or annually.
How your subscription level can affect fee costs?
A higher-level subscription model can lower insertion as well as final value prices, as indicated previously.
Insertion fees by subscription type
If you want to save money on insertion fees, this chart shows how you may do it by purchasing a higher subscription.
Final value fees by subscription type
Your shop membership works a bit differently when it comes to final value expenses.
Having a shop subscription involves reducing the percentage adding to the charge, and the highest price at which the charges are limited, rather than immediately reducing the standard price (because there isn't one for final value fees).
Other eBay Seller Fees You Should Know
There are a few additional costs users need to be aware of before we get into the best strategies for controlling your eBay fees during the accounting process.
Zero Insertion Fees
eBay gives sellers an allocation for 200+ "zero insertion fee" listings, monthly, which are listings that are free from standard listing costs.
If you want to reduce your overall eBay expenses, getting the benefit of $0 insertion charges is a great way to do it.
The quantity of zero-insertion expenses provided to sellers each month is determined by their shop subscription level. You can find the zero insertion fee eBay page here.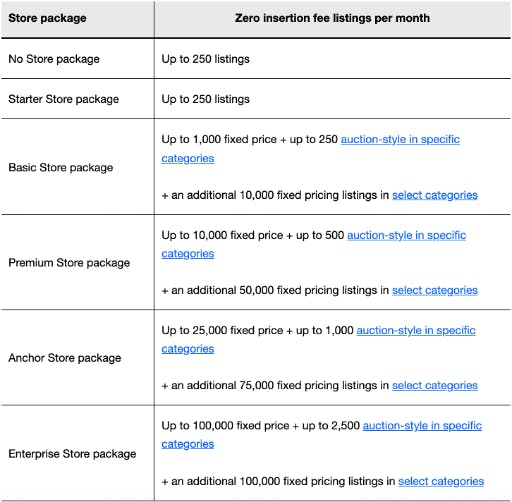 Dispute Fees
If a customer's order is defective, they may choose to file a payment complaint.
eBay will charge you a dispute fee if eBay determines the disagreement is fair and deems you accountable.
The charge is $20 per dispute (not including sales tax).
International Fees
Finally, if the individual purchasing your item uses a registered or shipping address (or both) outside of the United States, and your registration address is in the United States, you may be subject to global expenses.
International fees come to 1.65% of the sale price of your listing and are automatically withdrawn from the sale.
Frequently Asked Questions
How Do Refunds Affect Paid Fees
As a seller and a customer, it's also crucial to comprehend eBay's Money Back Guarantee. This safeguards the seller if the item bought does not arrive, is defective or damaged, or does not fit the description. The eBay seller will be reimbursed in this scenario.
Return shipping costs are covered by the person named in the eBay listing's return section.
Sellers have the option of paying for returns or requiring the customer to cover the expenses of return shipping. Expecting the customer to pay for return postage may discourage customers from returning an item, only if it is really required.
How do I lower my eBay Seller Fees for Maximum Profit?
1.    Pay for an annual subscription
2.    Choose a subscription with zero insertion fees.
3.    Reduce final value fees by offering Fast N' Free shipping
4.    Become a top-rated seller
How do I calculate my eBay selling profit?
To calculate your eBay selling profit, you'll need to know the cost of the item, the final price it sold for, and any fees that were charged. Once you have these three pieces of information, subtract the cost from the final sale price and then add in any applicable fees.
For example, You sold an item for $10 and paid $3 in shipping charges. The total cost of this transaction was $13.
taxomate can assist you in calculating your eBay profit by automatically connecting QuickBooks Online with eBay.
How to pay eBay Seller Fees?
Sellers can pay their fees in two ways:
PayPal - eBay offers sellers the option to use PayPal to pay their eBay fees. 
Bank Transfer - Sellers can also choose to pay their fees with a bank transfer.
When should I upgrade my eBay store subscription?
The best time to upgrade your eBay store is when you are ready to start selling more items and want to take advantage of the benefits of a higher-level subscription. For example, if you are currently using the Basic level and need more storage space or want to offer international shipping, then it might be worth upgrading.
Summary 
Being aware of the selling fees on eBay and how much they cost lets you avoid losing money when running your ebay store.
At a glance, these are the key eBay fees all sellers should be aware of:
Insertion Fees: The costs you pay to list items on eBay (which can sometimes involve optional listing upgrading fees).
Final value fees: Fees paid after an item on eBay is sold.
Store Subscription Fees: Fees paid monthly in order to run an eBay seller store.
And these additional circumstantial fees may also apply:
Zero-insertion Fees: Technically, this isn't a charge; rather, it's a sort of listing that doesn't charge insertion fees.
Dispute Fees: The fees you must pay if eBay holds you responsible for a dispute claim.
International fees: The charges you incur when a buyer uses an address outside of the United
Michael Schwartz
Michael is the CEO and co-founder of taxomate, one of the leading ecommerce accounting integration software solutions.