How To Attract Buyers With Amazon's Enhanced Brand Content
Last Updated:
Amazon is one of the world's largest retailers and a multinational e-commerce company with more than 798000 employees. As of 2019, the company accounted for 280.5 US billion dollars in net revenues.
The company's success is highly impressive and more than 54% of people visit online Amazon stores when beginning a product search while only 46% do their product search on Google (Retail dive).
But with the increasing competition sellers are constantly trying to come up with innovative ways to market their products through Amazon. The two biggest challenges for Amazon sellers are:
Product and brand differentiation
Gaining consumer confidence
With the large number of identical items sold with fake reviews, selling even authentic goods sometimes becomes an issue for sellers. This is where Amazon's enhanced brand content (EBC) or Amazon A+ content comes into play. Let's take a look at the basics of enhanced brand content and how it is being used by Amazon sellers for their benefit.
Enhanced brand content (EBC): what is it exactly?
A lot of you might already know about Amazon A+ content, which is a cost-based model where HTML content uplifts and personalizes product listings. Amazon's enhanced brand content takes the standard listings and improves them.
By definition, enhanced brand content (EBC) is a type of customizable visual element included in Amazon's standard identification number (ASINs) to compare to potential product doppelgangers. With this add-on, sellers can feature:
Extra product information
High-quality product images
Improved graphics
Other messaging can boost brand image and recognition
In the past, enhanced brand content was reserved for products originally marketed by Amazon or by sellers registered in the vendor program. Today enhanced brand content is available through Seller Central for most sellers.
What is so exciting about it?
The enhanced brand content program allows sellers to improve the Product Description section of their listing by adding additional images, copy, and comparison charts. The enhanced brand content detail pages are now accessible to sellers.
Enhanced brand content can also be a great way to answer common questions by listing additional details. This helps them drive sales and reduce returns and customer regrets. Furthermore, these listings can be of particular use for items not known to buyers, new, or otherwise complicated.
Examples of Amazon's enhanced brand content (EBC)
Now you already know the significance of enhanced brand content, it's time to explore some examples of it.
The most important thing you'll notice is the display of these products as your product listing will essentially serve as a lagging page. It is important to have good content that enables buyers to have more knowledge about the functionality of the product while finding the page easy to navigate.
1. OGX
The first example of Amazon's enhanced brand content is OGX. Just look at the following page of OGX. It aims to deliver an aesthetically pleasing user experience with its use of enhanced brand content. Eventually, the enhanced brand content appears as a landing page as well as your shop window.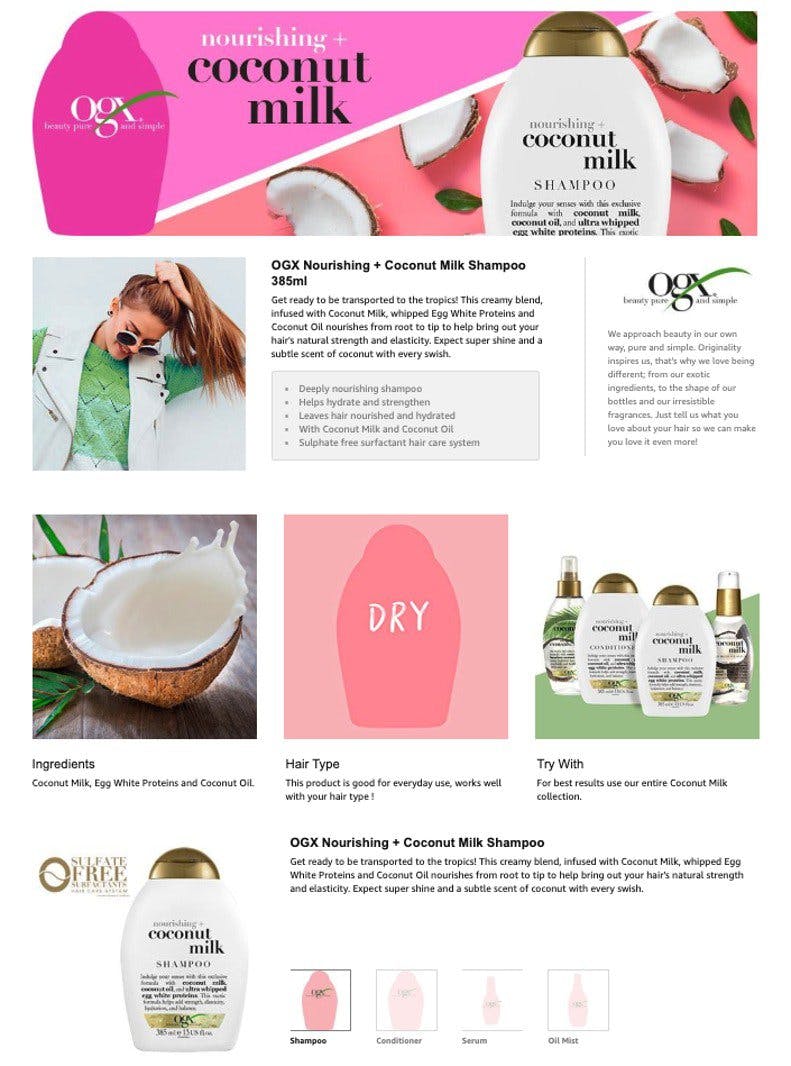 For instance, the page of OGX takes users on a journey by providing details about the product features, benefits, and key ingredients – everything a buyer needs to know before investing in hair care products.
2. Natures Aid
Next on our list is Natures Aid. The selected layout covers few amazingly important points when using the enhanced brand content as a tool. The page talks about the three most essential aspects like the brand identity, preempting any doubts related to the product, and finally, it breaks downs the main selling points.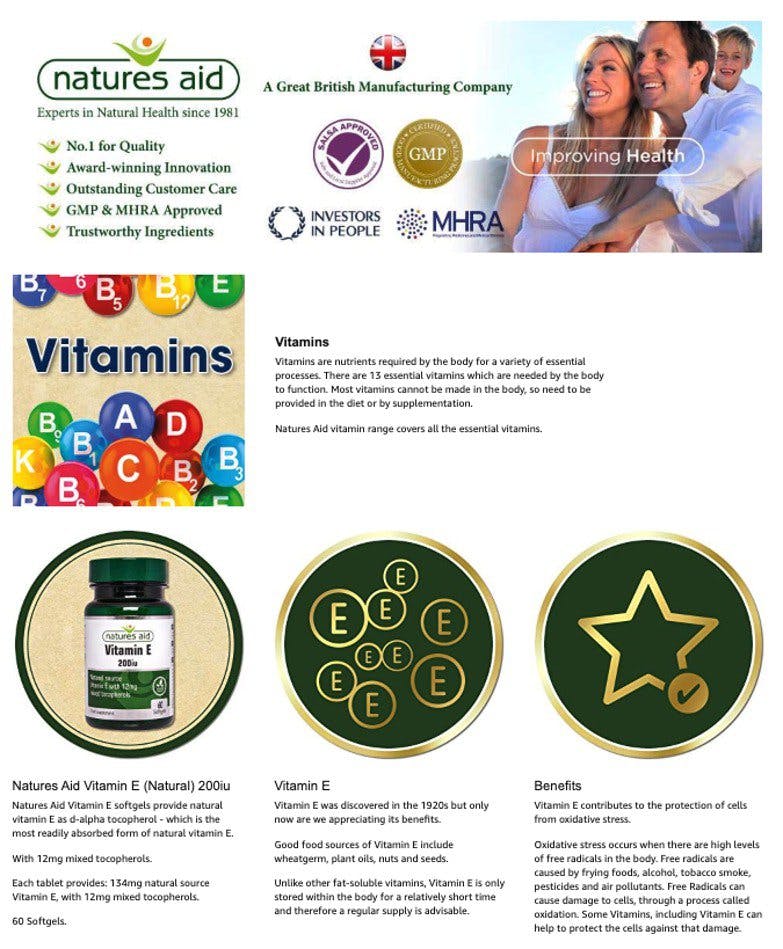 3. Hoover
A leading name in the cleaning equipment market is Hoover. Despite operating in such an industry, the company is highly conscious about its digital marketing communications. Hoover's marketing department is keenly aware of the strict standards Amazon sets under its enhanced brand content strategy.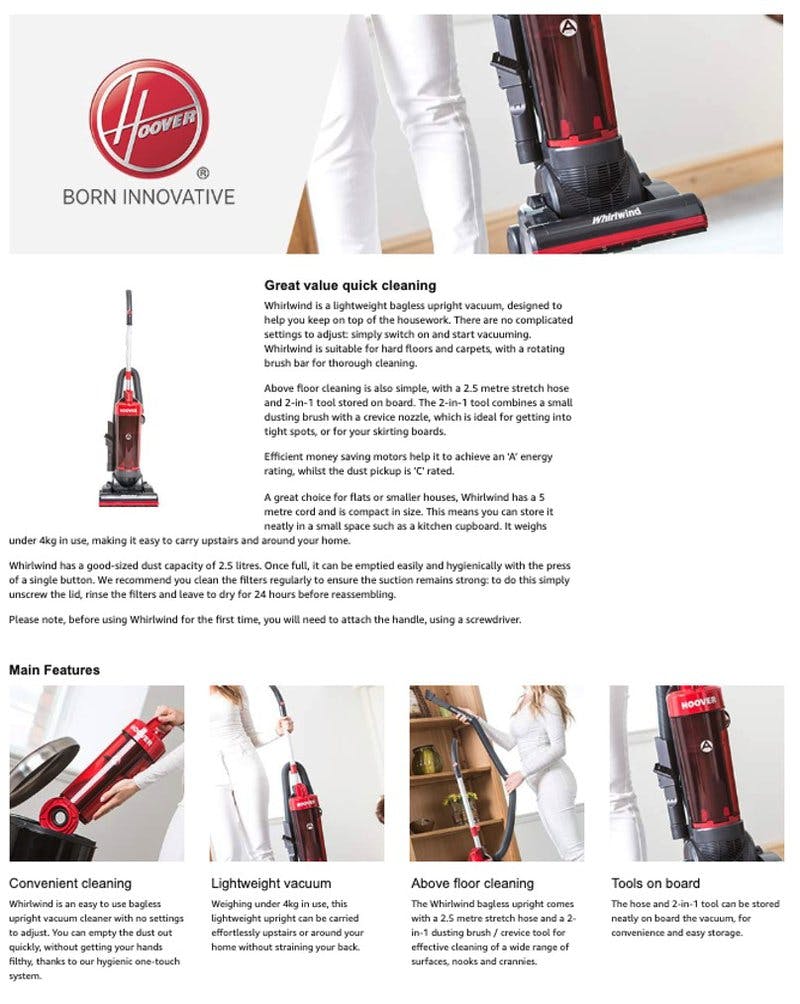 The company has adopted a clean approach to its visuals and portrays the unique selling point (USPs) of each item in a sequential fashion.
Image sizes of Amazon's enhanced brand content
The size generally depends on the selection of the template. You'll see images of various size requirements. For example, there are eight images (template one) allowing for 300x650 pixels for each. Contrary to this, sellers might choose template three but can include two images at 970x600 pixels each.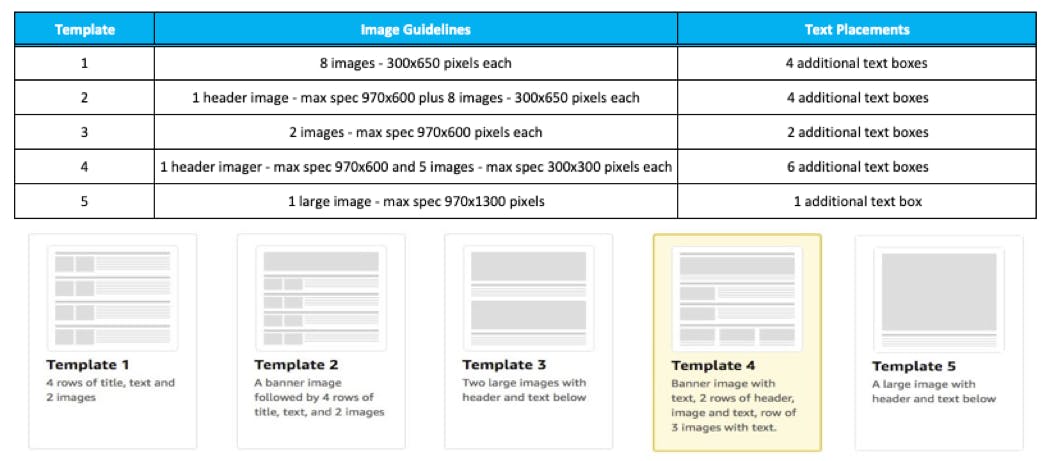 Guidelines for Amazon enhanced brand content
Amazon's enhanced brand content tool is totally free to use. This means sellers can have at least 20 maximum product submissions at a single time. Amazon has up to 7 days per submission to approve.
Moreover, sellers are encouraged especially if they are early adopters of the product, to use a fee-based system so they can get the expertise of professionals.
The first and most initial step to use the enhanced brand content tool is to register the brand on Amazon Brand Registry. This is vital because the tool is only accessible to registered sellers (not for categories such as videos and books).
Some important guidelines for sellers:
Sellers aren't allowed to list guarantees.
Sellers don't have the permission to use images that mimic Amazon's logo or engage in trademark infringement.
Sellers cannot link away from Amazon.
Sellers cannot use a low-resolution creative.
Sellers need to avoid any spelling or grammatical errors.
These are some of the standard expectations from sellers in terms of content the giant e-commerce retailer Amazon expects. Plus, you can imagine the quality Amazon wants its users to experience while ordering from their website.
Quality user experience is still the most important thing. If you really want to attract and retain users, you need to think about user intent and improve the user experience accordingly.
Some key differences: A++ content and enhanced brand content
While the foundational concept behind Amazon enhanced brand content and A++ content is pretty similar, there are still some main differences you should be aware of.
There are some options when creating enhanced brand content on Amazon:
It is available to all vendors
There are 12 basic modules available
The number of maximum modules per page is 5
The content width has to be 970 pixels but not as wide as the full page
Alternatively, A++ is an exclusive and paid service system and thus provides the brand with more options.
It comes with the invite-only option.
There are 16 interactive modules available out of which 12 are basic modules/
The content width is 1464 pixels maximum. Brands have the opportunity to create content for a complete product page.
However, both A+ and A++ content will be optimized automatically by Amazon for smartphones.
Adding enhanced brand content on Amazon
If you already know what Amazon A+, A++, and Amazon Enhanced Brand Content Service are all about, it's time to understand how you can create them for your products. First, your brand needs to be registered with Amazon. Then follow these steps:
Sign in to your Amazon vendor central or seller central account.
Go to the Advertising (seller central) or Merchandising (vendor central) menu.
Now select the A+ details page (vendor) or A+ content manager (sellers).
Finally, pick from the two provided options: 'Amazon builds for you' or 'Self-service'.
At this point, you can start creating your content. All you need to do is to choose the ASIN for which you want to create content.
Some more practical guidelines for Amazon's enhanced brand content
Here is a list of some more guidelines every registered seller is expected to follow:
Sellers must not mention their company as a distributor.
It is very important sellers do not mention any warranty, guarantee, or references to off-Amazon refunds and returns.
Avoid promotional phrases such as 'free', 'affordable', or 'cheap' in the content.
Avoid adding shipping information such as expected delivery time.
Do not use trademark, copyright, or any registered symbols anywhere in the description.
Avoid using any unsubstantiated claims such as the 'the best product' or 'number 1 selling product'. These unverified claims turn out to be great trouble sometimes.
Don't use time-sensitive product information such as referring to sales holidays.
You are allowed to include only two editorial quotes from well-known publications.
Don't add images that look similar to Amazon's logo, page headings, etc.
All the images must display the product you are talking about.
You are not allowed to add links redirecting to outside pages.
Avoid using low-quality blurry images containing watermarks or unreadable text.
The used font size must be 16 and must be easy to read.
You are not allowed to mention the product to be used for any unlawful activity.
Top benefits of enhanced brand content
By now you already understand what enhanced brand content can do for you. Let's look at some of the key benefits enhanced brand content can deliver to you.
1. Improved conversions and low bounce rate
The first and foremost thing enhanced brand content would do for you is to simply help you stand out in the crowd. It turns out, this is exactly what sellers are trying to do to get the attention of potential customers.
When a customer lands on a product page, he/she scrolls down to the product description. The more appealing content and images they'll see here the more positively their purchase intention gets affected. The enhanced brand content makes the product appear more attention-grabbing to customers.
This simply means fewer bounces and high chances of conversions.
2. It can boost brand awareness and image
Customers today are bombarded with information. In order to stand out, give them a unique visual experience. Amazon ebc Service is a tool that can give sellers an instant opportunity to make the brand tell its story.
Seeing this type of visual content creates a great first impression that lasts. After seeing content like this, it is highly unlikely that a customer will turn around and purchase an insulated bottle with an average product description.
3. Lower product returns
Ever wonder how this is actually possible? Amazon's enhanced brand content allows sellers to convey every single important detail about the product in a visually appealing way.
This means that the potential clients are likely to read more about the product, check the images, and know everything about the product before making a final purchase. So, when you know more about a product there are fewer chances that you'll end up regretting buying it.
The comparison tables can also help you with that. By using them, you can highlight the chief features against similar products in your catalog. All of this information is essential to ensure that the consumer makes an informed decision.
And remember that, an informed customer is not going to return the product except if he/she gets a damaged or faulty product.
4. Reduce the number of negative reviews
Since Amazon's enhanced brand content is all about detailed guidelines about the product, it is very less likely that the customers will leave a negative review due to misunderstanding or lack of information. So, it is a win-win for all the parties involved.
In summary
All in all, Amazon's enhanced brand content is a super strategy to attract customers and make them loyal to your brand. It is a great way for sellers to highlight the key features of your products so that they can stand out from the crowd. It is a great way to finalize the deal quickly without wasting time.
Michael Schwartz
Michael is the CEO and co-founder of taxomate, one of the leading ecommerce accounting integration software solutions.