The Ultimate Guide to eBay Seller Fees
Last Updated:
In the same way that a brick-and-mortar store pays rent or buys a property from which to sell, digital business owners pay for the space they occupy online.
However, if they aren't cautious, these various fees can quickly build up and eat into profit margins. That is why at taxomate we have created a solution so that you can easily import your ebay seller fees into your accounting software.
This article covers all you need to know about eBay shop costs, including listing fees, final value fees, subscription fees, dispute fees, foreign fees, and no fees at all.
Is it possible to minimize them? They absolutely can, with proper preparation and a little forethought. That's what we'll look at here as well.
What are eBay Seller Fees?
eBay expenses and charges should be a key part of your sales plan and budgeting.
How do you keep your costs as low as possible while still earning a profit?
The first step is to educate yourself on what are eBay seller fees. You may save your company a lot of money in the long run by just learning what they are when they're charged, and how they affect your business.
But because you're reading this, you're presumably already aware of it.
eBay's managed payments solution is being rolled out to sellers, and it will ultimately become the norm.
Accepted Payment Methods
Customers can select any of these forms of payment:
Visa
Mastercard
Discover
American Express
PayPal
PayPal Credit
Apple Pay (through the eBay app and mobile website only)
Google Pay (through the eBay app, mobile website, and desktop)
If you used a different payment source, such as PayPal, the cost was previously separate and imposed on top of any selling fees. These have now been integrated to make reconciliation easier.
Getting Paid
Despite the payment option your customer selects, you'll get your payouts in your specified checking account with controlled payments.
When your customer pays and it's time to dispatch your purchase, eBay sends you a notification. After verifying the buyer's payment, eBay makes the proceeds from your transaction available within 2 business days. You have the option of receiving daily or weekly distributions of available funds. Find out more.
Payments will be delayed if a hold is placed. All of your payout activity may be seen in the Payments tab in Seller Hub or Payments in My eBay.
Sellers can obtain a variety of reports to aid in the reconciliation of their eBay sales.
Your selling fees as well as other charges will be withdrawn immediately from your cash awaiting reimbursement when eBay administers your payments. If they are inadequate, we'll bill your on-file payment method for the amount you owe eBay within 14 days. We may combine all of your debts into a single charge.
So, while eBay has simplified it a little for you, the following fee types will still pop up from time to time.
Let's take a look at each one and see how eBay calculates the fees you'll be charged.
eBay Listing Fees
eBay's listing fees are referred to as "insertion" fees.
These are the typical costs for selling anything on eBay, and they are paid in advance — before the item may be advertised.
As a seller, you'll encounter insertion fees for the first time, so it's critical that you understand what they are as well as how they function.
How eBay insertion fees are calculated?
The costs you pay to sell on eBay are determined by the item you're listed, how you list it, and your account type.
A single insertion cost is charged for listings featuring several items, like a "guitar bundle" or "5x collection cards."
Regardless of whether the item sells or not, insertion costs are always non-refundable.
eBay calculates insertion fees based on the following things:
Your subscription level
Category or categories the item is listed in
Duration of your listing
Optional upgrades added to your listing
Later, we'll go through how different subscription levels affect your insertion costs. Now we'll take a closer look at each of the other topics mentioned previously.
Category Fees
Insertion fees are charged at varying rates for different categories. Merchandise that falls into more than one category must pay an additional insertion charge for each.
Check out the following examples of insertion fees for various product categories.
Listing time and optional upgrades
eBay allows sellers to add paid improvements to their listings in order to make them noticed.
These improvements vary in price depending on the listing type and are applied to the initial listing charge.
There are two types of listings on eBay:
Fixed-price ads, often known as "Good 'Til Cancelled" advertisements, renew on a monthly basis.
In auction-style listings, there is a specified deadline when the listing will terminate if it is not sold. This article discusses how the length and starting price of the auction may impact optional upgrade fees.
Let's look at fees that are charged after a transaction now that we've reviewed how eBay fees operate when you're listing products.
eBay Final Value Fees
Post-sale fees on eBay are known as final value fees. Sales tax is not included.
Even if the customer does not finalize the transaction, final value fees are charged as soon as the customer clicks "Buy Now" or wins your auction.
In the latter situation, you may be able to get a refund of the final value cost.
How eBay final value fees are calculated?
Final value costs are calculated using the price at which your item sells, the marketplace area in which you are situated, and the shipping method used to complete the transaction.
Final value fees are affected by the category in which you list your item as well as your store subscription level, just as insertion costs.
eBay Seller Shipping Fees and Shipping Method
The amount of final value costs you're charged depends on whatever delivery option your buyer picks at the transaction screen.
There is, though, one exception to this rule.
If you choose 1-day or international shipping together with a less expensive option like domestic, the charge will be computed based on the least expensive choice.
Marketplace region and account type
The final value fee percentage on eBay is different for each country marketplace.
Your account type – which should never be mistaken for the kind of shop membership – may also have an effect. In certain areas, the percentage of business sellers is smaller than that of private vendors.
The category or categories in which you list your goods has an impact on the overall cost of your final value fees, much like insertion fees.
Various categories have greater or lower maximum final value fees than ordinary categories, and also varied final value charge percentages.
In contrast to insertion charges, items that fall under two categories only get charged one final value fee.
eBay Store Seller Fees
If you sell on eBay frequently, you might want to consider getting a shop membership.
We'll lay down the expenses of each shop membership level (including no subscription) and how these diverse business types may affect your other fees in this section.
What is an eBay store subscription?
eBay allows you to open your own store with a monthly subscription charge.
More zero-insertion costs every month (details in the following section), extra tools to help you manage as well as advertise your business, and, in certain situations, cheaper rates are all available to you.
The price of a shop membership is determined by how often you pay - monthly or annually.
How your subscription level can affect fee costs?
A higher-level subscription model can lower insertion as well as final value prices, as indicated previously.
Insertion fees by subscription type
If you want to save money on insertion fees, this chart shows how you may do it by purchasing a higher subscription.
Final value fees by subscription type
Your shop membership works a bit differently when it comes to final value expenses.
Having a shop subscription involves reducing the percentage adding to the charge, and the highest price at which the charges are limited, rather than immediately reducing the standard price (because there isn't one for final value fees).
Other eBay Seller Fees You Should Know
There are a few additional costs users need to be aware of before we get into the best strategies for controlling your eBay fees during the accounting process.
Zero Insertion Fees
eBay gives sellers an allocation for 200+ "zero insertion fee" listings, monthly, which are listings that are free from standard listing costs.
If you want to reduce your overall eBay expenses, getting the benefit of $0 insertion charges is a great way to do it.
The quantity of zero-insertion expenses provided to sellers each month is determined by their shop subscription level. You can find the zero insertion fee eBay page here.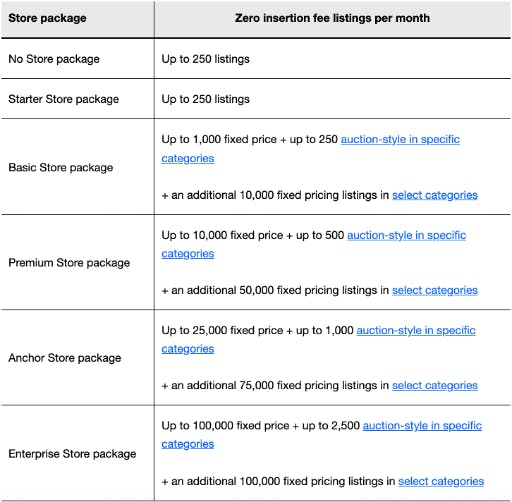 Dispute Fees
If a customer's order is defective, they may choose to file a payment complaint.
eBay will charge you a dispute fee if eBay determines the disagreement is fair and deems you accountable.
The charge is $20 per dispute (not including sales tax).
International Fees
Finally, if the individual purchasing your item uses a registered or shipping address (or both) outside of the United States, and your registration address is in the United States, you may be subject to global expenses.
International fees come to 1.65% of the sale price of your listing and are automatically withdrawn from the sale.
Frequently Asked Questions
How Do Refunds Affect Paid Fees
As a seller and a customer, it's also crucial to comprehend eBay's Money Back Guarantee. This safeguards the seller if the item bought does not arrive, is defective or damaged, or does not fit the description. The eBay seller will be reimbursed in this scenario.
Return shipping costs are covered by the person named in the eBay listing's return section.
Sellers have the option of paying for returns or requiring the customer to cover the expenses of return shipping. Expecting the customer to pay for return postage may discourage customers from returning an item, only if it is really required.
How do I lower my eBay Seller Fees for Maximum Profit?
1.    Pay for an annual subscription
2.    Choose a subscription with zero insertion fees.
3.    Reduce final value fees by offering Fast N' Free shipping
4.    Become a top-rated seller
How do I calculate my eBay selling profit?
To calculate your eBay selling profit, you'll need to know the cost of the item, the final price it sold for, and any fees that were charged. Once you have these three pieces of information, subtract the cost from the final sale price and then add in any applicable fees.
For example, You sold an item for $10 and paid $3 in shipping charges. The total cost of this transaction was $13.
taxomate can assist you in calculating your eBay profit by automatically connecting QuickBooks Online with eBay.
How to pay eBay Seller Fees?
Sellers can pay their fees in two ways:
PayPal - eBay offers sellers the option to use PayPal to pay their eBay fees. 
Bank Transfer - Sellers can also choose to pay their fees with a bank transfer.
When should I upgrade my eBay store subscription?
The best time to upgrade your eBay store is when you are ready to start selling more items and want to take advantage of the benefits of a higher-level subscription. For example, if you are currently using the Basic level and need more storage space or want to offer international shipping, then it might be worth upgrading.
Summary 
Being aware of the selling fees on eBay and how much they cost lets you avoid losing money when running your ebay store.
At a glance, these are the key eBay fees all sellers should be aware of:
Insertion Fees: The costs you pay to list items on eBay (which can sometimes involve optional listing upgrading fees).
Final value fees: Fees paid after an item on eBay is sold.
Store Subscription Fees: Fees paid monthly in order to run an eBay seller store.
And these additional circumstantial fees may also apply:
Zero-insertion Fees: Technically, this isn't a charge; rather, it's a sort of listing that doesn't charge insertion fees.
Dispute Fees: The fees you must pay if eBay holds you responsible for a dispute claim.
International fees: The charges you incur when a buyer uses an address outside of the United
Michael Schwartz
Michael is the CEO and co-founder of taxomate, one of the leading ecommerce accounting integration software solutions.